COVID-19 Resources

Click here for Unemployment Info
Article: Steps to Take if you've lost your job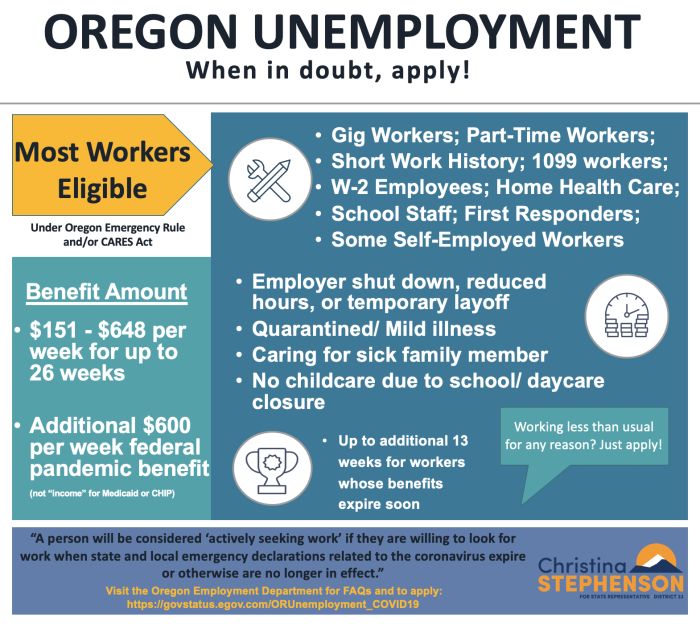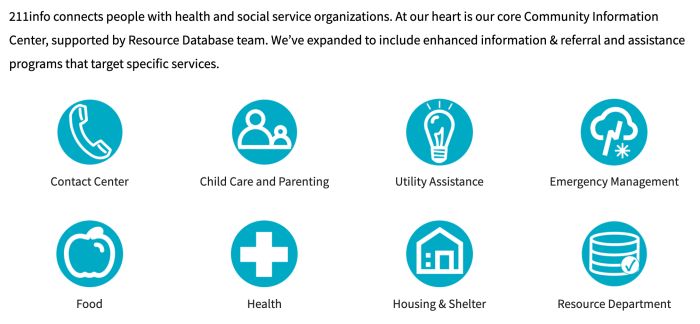 Click here for Housing and Shelter Information
Oregon Office of Emergency Management COVID-19 Resources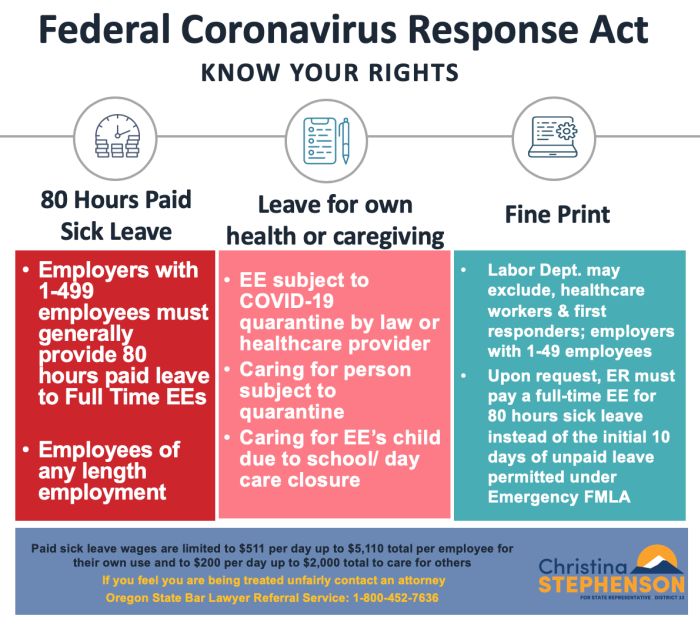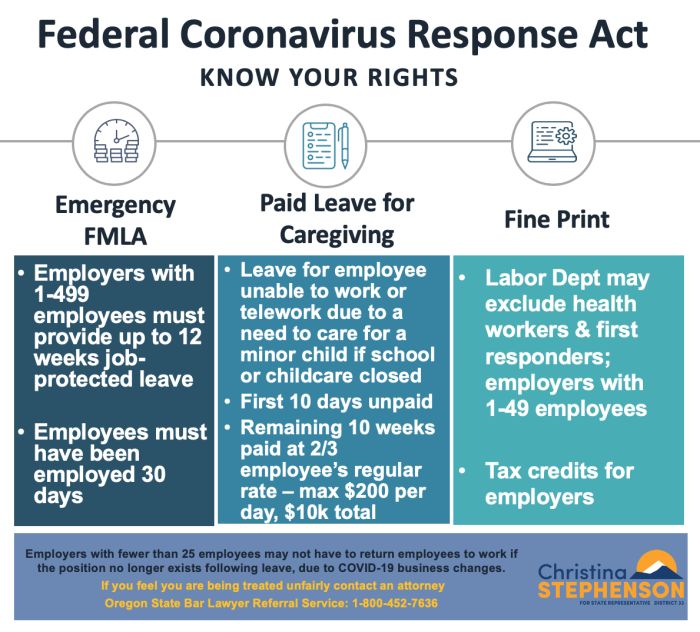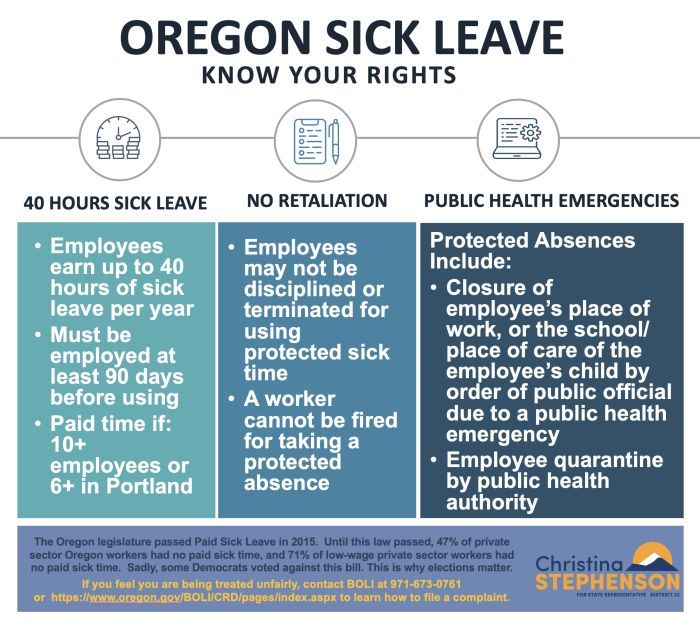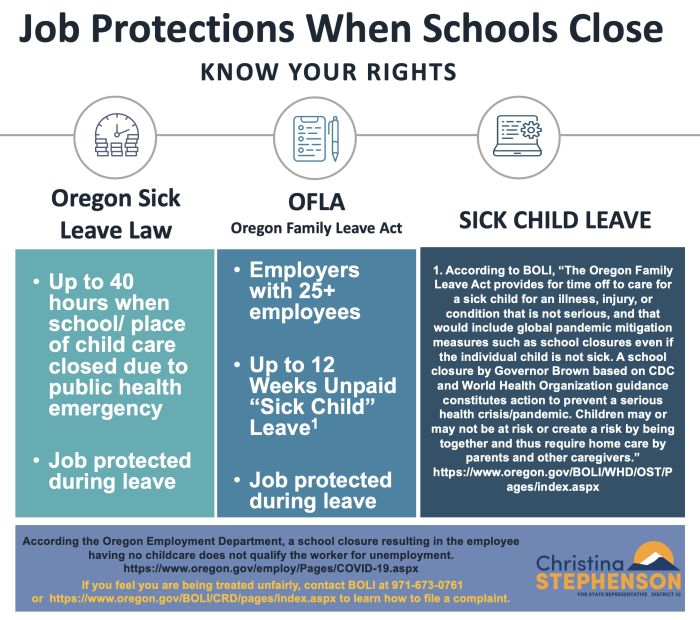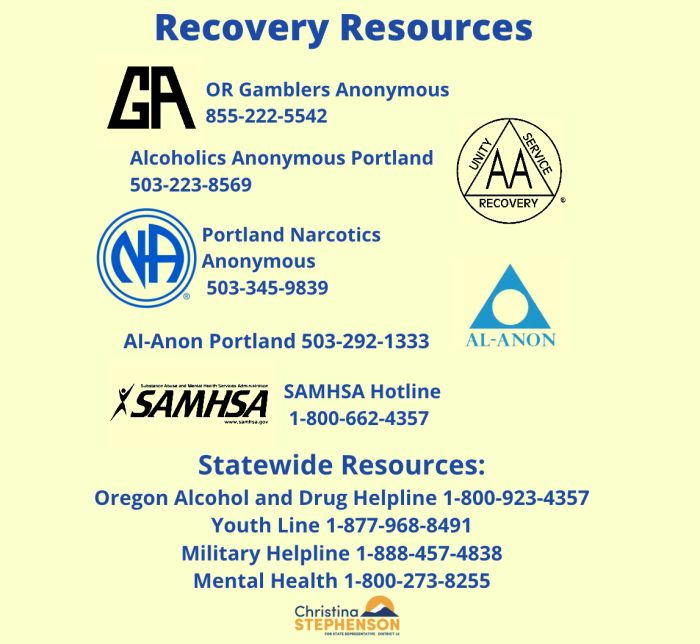 Oregon Recovers COVID-19 Website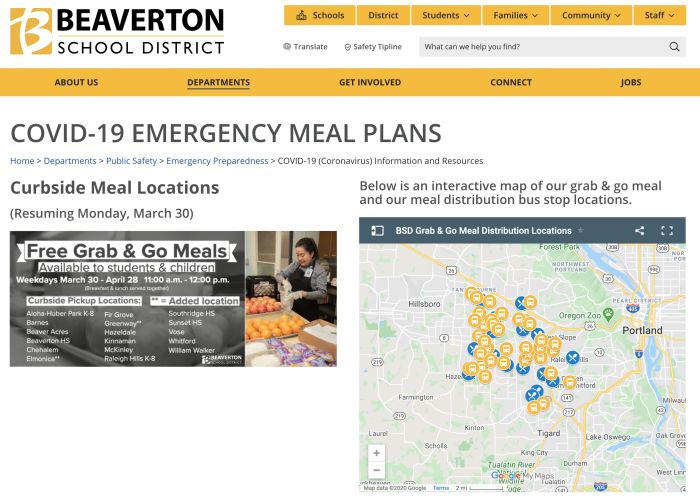 COVID-19 Resources for Families of Children and Youth with Special Health Care Needs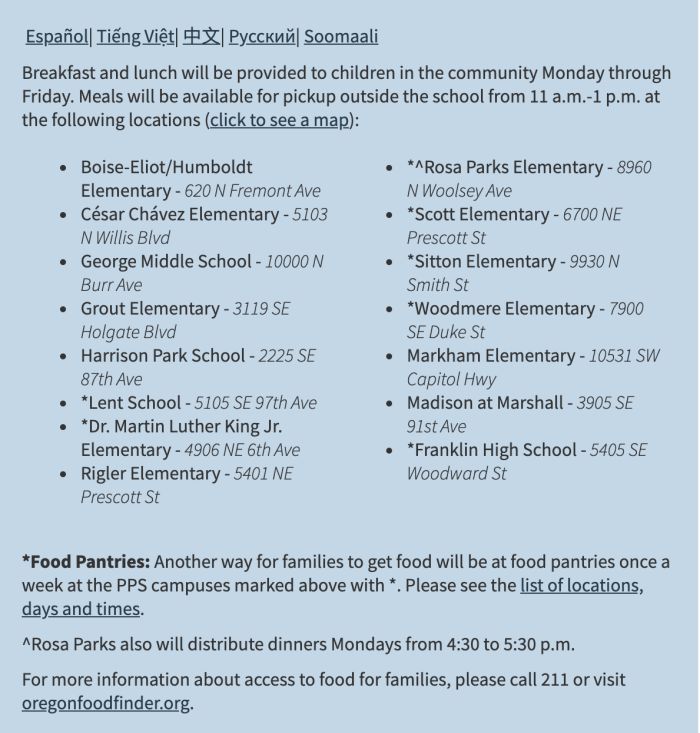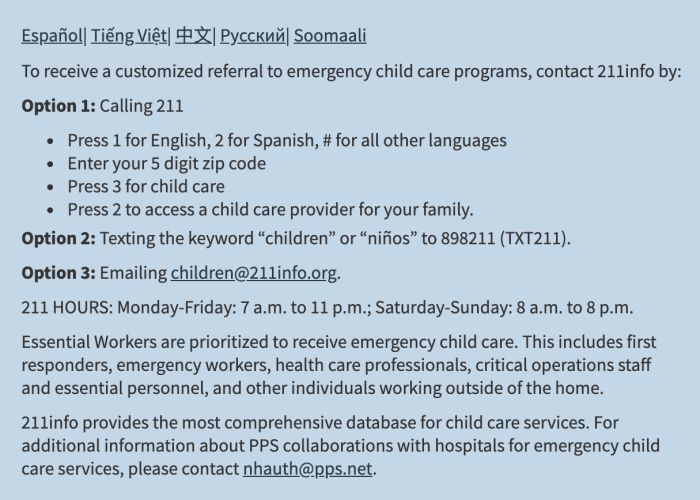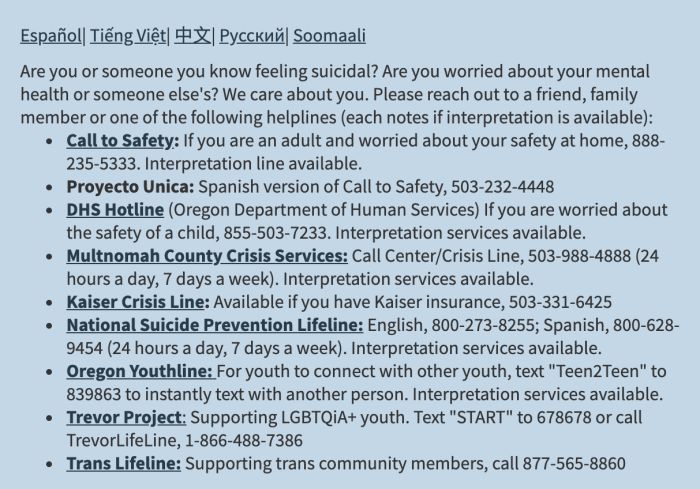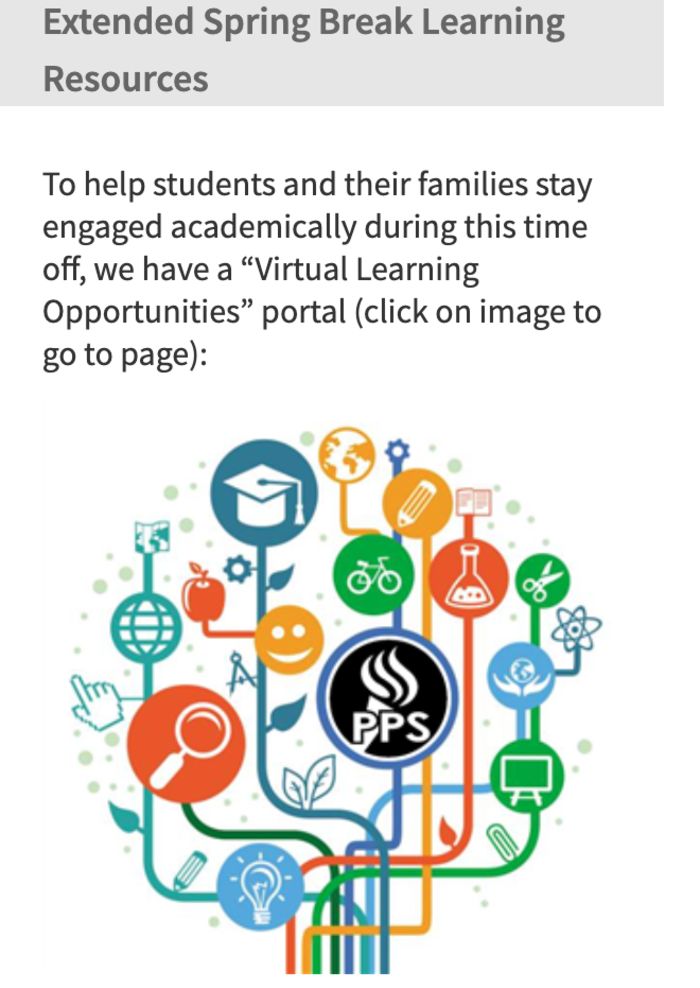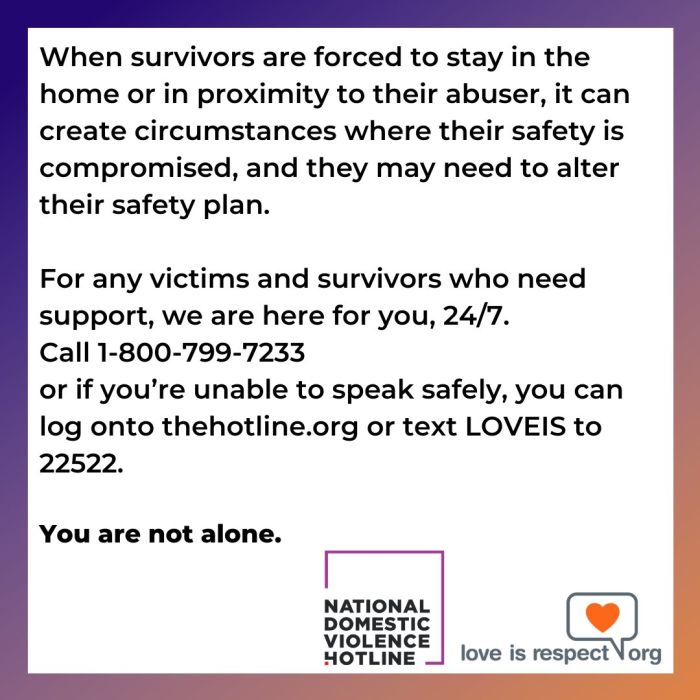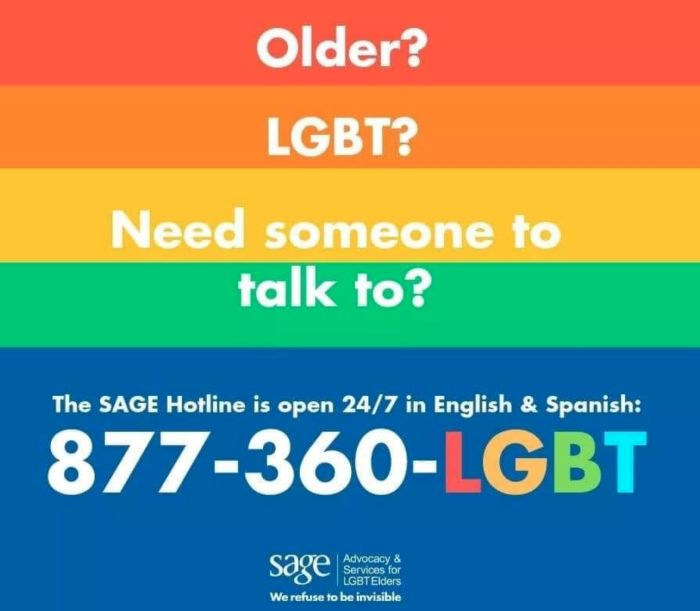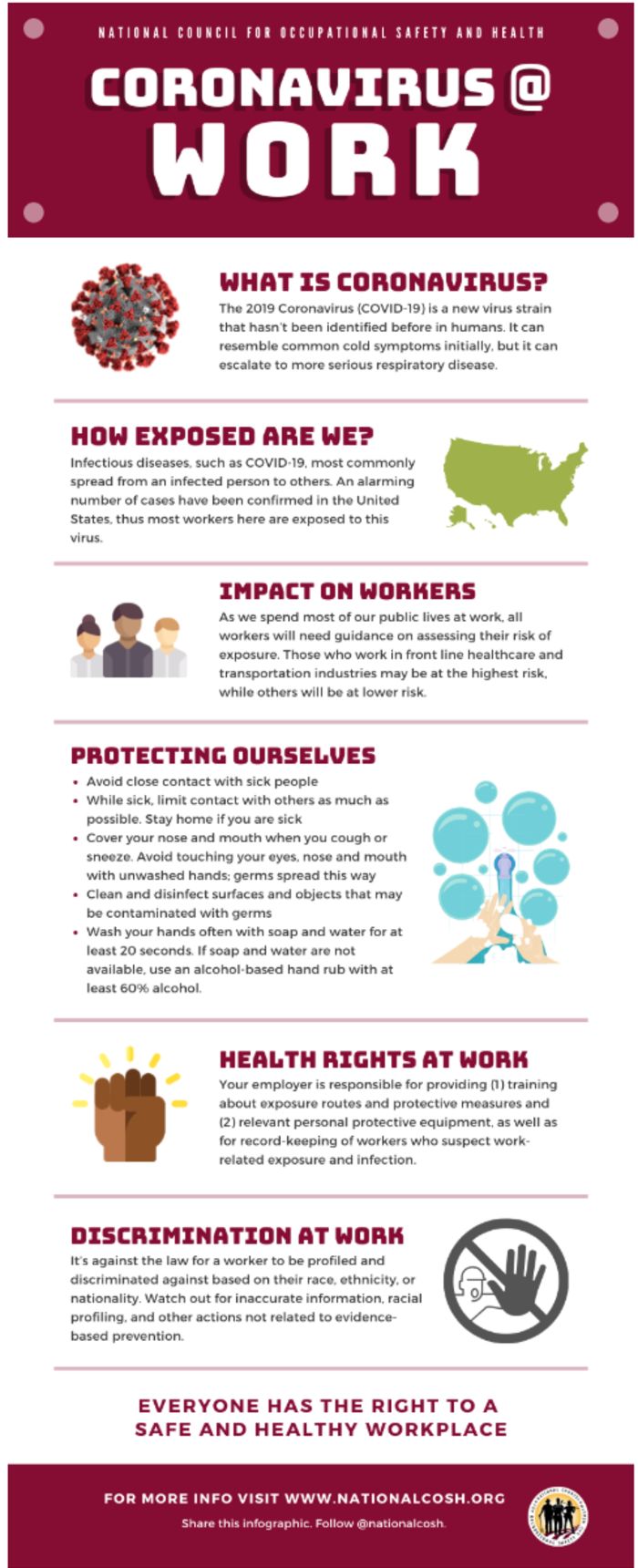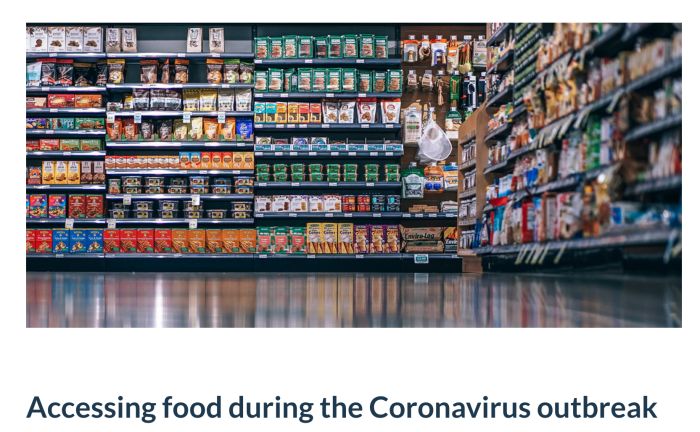 How to sew your own protective face mask
Parenting Tips Recommended By Our Kindergarten Teacher
Education Companies Offering Free Resources
COVID-19 Home School Live Educational Videos
BIPOC Restaurants in Metro Area
If you're a PPS student in need of a computer to complete your work fill out this google form: https://docs.google.com/forms/d/e/1FAIpQLSfR9vU1RGTJigjBOlpYQwi4DHLNbZVJ07PdhAsj3c13VeqMxQ/viewform?fbclid=IwAR0sL_xywHU2GVZrIiHF7sL81-A29QXU6I591Q8k0GHL96y-OLtK-uj94uE
Free remote learning resources/activities
https://www.beaverton.k12.or.us/departments/library-services/remote-learning/
https://www.oregonfoodbank.org/find-help/find-food/
Businesses giving out lunches to kids during school shutdown:
Laughing Planet- free lunches to PAT students, however, they are given on an honor system basis
Lionheart Coffee Co- two locations in Beaverton, brown bag lunches given, no questions asked. Also accepting food and supply donations to help provide lunches.
Utilities
Portland-area utility providers are suspending automatic service shutoffs in the event of nonpayment:
Portland General Electric (PGE): Find payment extension information here
Pacific Power: Call customer service at 1-888-221-7070
Portland Water Bureau: Apply for financial assistance here
NW Natural: Customers should call (800) 226- 4211 and contact the billing department to make arrangements.
Currently available FREE resources (mostly) in response to COVID-19:
• Free unlimited smartphone data from all four major service providers (Verizon, Sprint, T-Mobile, AT&T) thanks to the FCC'S recent "Keep Americans Connected Pledge" which also includes:
- Not terminating service due to an inability to pay
- Waiving late fees
- WiFi hotspots
Source: https://www.fcc.gov/keep-americans-connected
• 60 days of free Comcast Internet for low-income households, the elderly, and veterans - continued service not required, can be canceled at any time.
Source: https://www.internetessentials.com/
And
https://corporate.comcast.com/covid-19
Comcast – 2 months free Internet for qualifying low-income households:
https://www.internetessentials.com/covid19
Mayors of Chicago, New York City, San Francisco, Boston and Portland Team with Grubhub to Suspend Fees from Independent Restaurants. Grubhub Sets up Charitable Fund for Impacted Drivers and Restaurants
· https://media.grubhub.com/media/press-releases/press-release-details/2020/Grubhub-and-Major-Cities-Across-the-US-Launch-Economic-Relief-Effort-up-to-100-Million-for-Independent-Restaurants-and-Delivery-Partners-Impacted-by-COVID-19/default.aspx
Other business help:
2020 Small Business Campaign - 11% discount on gift certificates from participating Portland small businesses. Contact Sarah Shaoul for more details.
Shine Distillery -- North Portland's Shine Distillery Is Giving Away House-Made, 80-Percent-Alcohol Hand 'Cleaner.'
https://pdx.eater.com/2020/3/11/21174997/shine-distillery-hand-cleaning-solution
Unemployment
Lay Off Support: Oregonian has good question and answer at the bottom, as well as resources: https://www.oregonlive.com/business/2020/03/oregon-coronavirus-layoffs-what-to-do-when-youve-lost-your-job.html
Direct Service Organizations:
· http://www.BlanchetHouse.org
· https://sunshinedivision.org/
Things to keep kids busy:
Scholastic Magazine: Even when schools are closed, you can keep the learning going with these special cross-curricular journeys. Every day includes four separate learning experiences, each built around a thrilling, meaningful story or video. Kids can do them on their own, with their families, or with their teachers. Just find your grade level and let the learning begin! https://classroommagazines.scholastic.com/support/learnathome.html
Lunch Doogles With Mo Willems https://www.kennedy-center.org/education/mo-willems/?fbclid=IwAR056KLyFM8LZ39mGf89aZSxxQVQMhYQ87hRhbds3RDv_7LkhzBRMR6je-k
https://stories.audible.com/start-listen
Authors Reading Kid Books: https://www.weareteachers.com/virtual-author-activities/?utm_content=1584565321&utm_medium=social&utm_source=facebook&fbclid=IwAR00t4WVFB2b1nSuSFK0Zp3jqo96fx2qtcJhnkuxh9vjhjzXWOIgFxg8qPg
Skype a Scientist: https://www.skypeascientist.com/skype-a-scientist-live.html?fbclid=IwAR0JzGz8MBTxmYfb2wi0qQmBWr0pUTsTdJ8glhZL0eZJQ-nJvbYl80dQLr0
Activities: https://entertainkidsonadime.com/2020/03/13/100-activities-to-do-at-home-during-school-closures/?fbclid=IwAR0hsm5niON29GFemjpxKoSc_dCHC23Zp2Fng9u3Ag4efXEot1AhON2ITR0
Comic Book Pages: https://jarrettlerner.com/activities/?fbclid=IwAR3PMTcj6X_5JpNqyvcMyak72QId7_cO2ZrtoOl3uuRvVr8NW-xNdK0i-vY
• Free streaming from:
- Pluto TV ( https://pluto.tv/welcome)
- Kanopy; "kids-only" TV, library card required (https://www.kanopy.com/kids)
• Free access to nightly streaming from the Metropolitan Opera
https://www.metopera.org/season/radio/free-live-audio-streams/
• 20 days free access to Scholastic Learn at Home (up to 3 hours per day)
Source: https://classroommagazines.scholastic.com/support/learnathome.html
• Free science lessons from Mystery Science (K-5th)
Source: https://mysteryscience.com/school-closure-planning
Education resources here:
http://www.amazingeducationalresources.com/
• This Virtual Field Trips
https://adventuresinfamilyhood.com/20-virtual-field-trips-to-take-with-your-kids.html
• You can find a variety of free ebooks from:
- https://www.bookbub.com/welcome
- https://www.free-ebooks.net/
Anti- Racist/ Anti-Oppressive School Options https://docs.google.com/document/u/3/d/1rBqt7UJ7U_8Nz0mnLgbRd3TsSgzoJ1gawefZPCNNmAY/mobilebasic?fbclid=IwAR2PmaszeWghNPCbzYsVI_ym_69-mWz1C9yQvId-nf9PQjWomr-9Wyd00D4&urp=gmail_link
• The Multnomah Library system is an incredibly underrated gem with a ton of programs. Go explore their website here: https://multcolib.org/
Project Me
While the kids are home these next couple weeks consider having them impact a child in the foster system. Though things will slow down for many these next few weeks-the one thing that will continue at the same rate is children going into foster care.
We are in great need of handmade Birthday Cards and You are Great (happy everyday cards)! We appreciate any cards. If you have stamps to spare you can put on envelopes or feel free to include.
https://www.facebook.com/imtheproject/
Download free coloring books from 113 museums around the world
http://www.openculture.com/2019/02/download-free-coloring-books-from-113-museums.html?fbclid=IwAR3sTOmHcqHvfhOM8yVuJE3TEwKwHdDiSqMR_8hbLmz9Vpe7ufoK8SGyDF4
Download free multilingual coloring book for explaining coronavirus to children — Available in 11 languages.
https://www.mindheart.co/descargables
Other helpful links:
211Info: Call 2-1-1 from a cell, 503-222-5555 from a land line